Line Item (LI) is your strategy for delivering the associated Creatives and spending the Campaign budget.
Line Item (LI) is the entity that allows to further customize targeting for advertising. It also serves as a connector between the Creative and the advertising campaign.
Please note, when you start creating a Line Item, Line Item Budget should be less than the total Campaign budget: overall and daily.
Step 1. Set Line item type, Budget and Delivery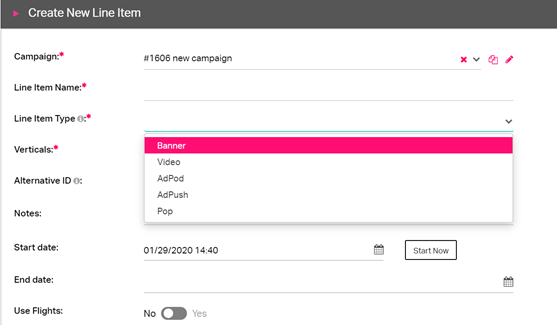 Overview tab specifies the basic parameters:
Line Item Type:

Banner (Display ads)

Video (In-stream & Out-stream video ads)

Adpod (Live-stream ads with ad pods)

AdPush (Push Notification ads)

Pop (Popup & Popunder ads)

Start and End dates

Use Flights
Use Flights gives you the possibility to specify flight periods when a set part of the budget may be spent, with all the targeting and frequency capping adhered to.
Pricing Model

CPM (Cost per mile, 1,000 Impressions)

CPC (Cost per click)

CPCV (Cost per view)

Budget type:

CPM/CPC bid

Frequency Cap

Frequency Cap option allows to show a certain amount of ads to a unique user.
For example, a user will see 3 ads every other day and 6 ads in a week.
Step 2. Setup Targeting parameters
In Targeting tab, different options are available for targeting.
Global - Inventory sources (list of ad networks, ad exchanges, DSPs)

Content - your advertising content belongs to.

Domain - targeting by domains

GEO - targeting by countries, region, city, ZIP.

Inventory - targeting by devices and placements.

IP - targeting by IP lists and ranges.

Global
Inventory sources: here you choose sources that will be connected to your Line Item.
Content
Content Category: the Category that a certain Line Item belongs to;
Language: the Language of the page content.
All the features are set up in Include mode (Whitelist) or Exclude mode (Blacklist).

Domain
Domain List: list of domains that you want to target can be included here.
To create a Domain List, please go to Global Lists. Once the Domain List will be created, it will appear in a Targeting tab.
Domain Zones: domain zones are included here.

GEO
Geo template can be chosen as well, but needs to be created in Templates first.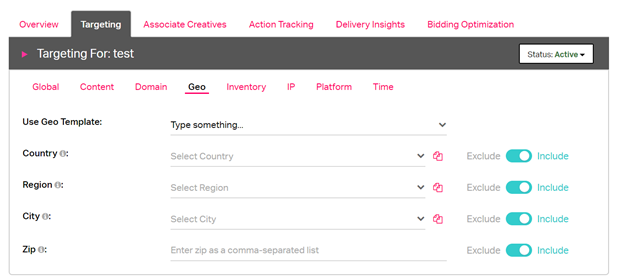 Inventory
Placement ID list: If Line Item Type is Adpush – this option allows you to target users by using the connection of source and its subsource (subid).
Key Value: this function is used by the advertisers that use their own traffic to promote the advertisement. If key value is passed in the bid request (f.e. sports, books), then the advertiser can use key value targeting.

IP (Internet Protocol address)
To create an IP List, please go to Global Lists. Once the IP List will be created, it will appear in a Targeting tab.

Platform

Time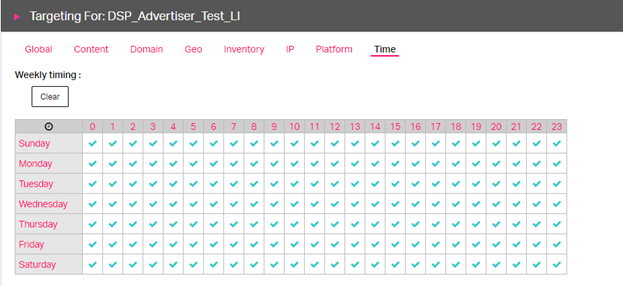 You set up a date you want your ad to be shown.
Segments
Segments allow you to collect audience and then use it for retargeting. To use it, please create a Segment in Global Lists, place the script on the specific page on your website, where you want to collect user's ID. And then you are able to target these users by Segments.

Step 3. Create (Associate) Creatives
Associate Creative tab helps you to connect your Creatives to the Line Item or Create new one for specific line item.

Step 4. Setup Action Tracking
To create an Action Tracker, please go to your Line Item where you would like to enable it.
Go to "Action Tracking" tab. Click on "Create" button.